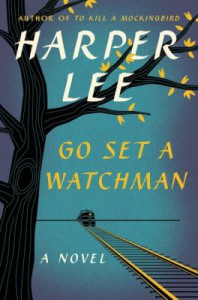 SUMMARY:
Go Set a Watchman is set during the mid-1950s and features many of the characters from To Kill a Mockingbird some twenty years later. Scout (Jean Louise Finch) has returned to Maycomb from New York to visit her father Atticus. She is forced to grapple with issues both personal and political as she tries to understand both her father's attitude toward society, and her own feelings about the place where she was born and spent her childhood. An instant classic.
AUTHOR:
Nelle Harper Lee was born on April 28, 1926, in Monroeville, Alabama, and educated at Huntington College, the University of Alabama, and Oxford University. She won the 1961 Pulitzer Prize in Fiction for her book, To Kill a Mockingbird, which also won Best Sellers' Paperback of the Year Award in 1962. The book, a mainstay on school reading lists, was adapted as a feature film in 1962 (starring Gregory Peck, who won a Best Actor award for his portrayal of Atticus Finch), and a London stage play in 1987. Lee was a life-long friend of the author Truman Capote and she assisted him in researching his bestselling book, In Cold Blood. Lee's only published works in the 35 years since Mockingbird appeared have been a few short articles in various magazines. In 2015, a second book by Lee was published and became a bestseller. It is entitled Go Set a Watchman; it was supposedly written before To Kill a Mockingbird, and contains many of the same characters. The character of Scout is twenty years older. Go Set a Watchman has become one of the fastest selling titles as reported by Australina booksellers and it made The New Zealand Best Seller List. (Bowker Author Biography)
Click here for title availability.