Fred Bennett Jones (1858 – 1933) was the son of George Watson Jones who served as Pike County Circuit Clerk from 1860-1864, and 1874-1876.
Fred was also the grandson of Nathan Watson Jones, who surveyed and helped found Griggsville, IL.
Fred moved to Chicago as a teenager (around 1877) and began working as a stock clerk for a manufacturer of railroad supplies. He retired as Vice President of that company and was its largest stockholder. (When he died, he remembered Pittsfield Public Library in his will and left us his personal library and enough money to build an addition on to the rear of our original Carnegie building.)
In 1900, Fred Jones commissioned a summer home on Delavan Lake, WI. The architect of that home was the now-famous Frank Lloyd Wright. This book tells the story of that home.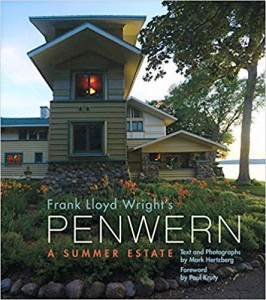 "Frank Lloyd Wright is best known for his urban and suburban houses. Lesser known are the more than 40 summer "cottages" he designed in Michigan, Wisconsin, and Ontario. Many of the early summer cottages have a rustic feel and are not as easily recognized as Wright's prolific year-round domestic designs. Among them is a stunning estate on Delavan Lake in southern Wisconsin called Penwern. Commissioned by Chicago capitalist Fred B. Jones around 1900, Penwern has received both national and state recognition. The home's current stewards have dedicated themselves to restoring the estate to Wright's vision, ensuring its future. Featuring beautiful color photographs, plus vintage black and white pictures and original Wright drawings, this book transports readers back to the glory days of gracious living and entertaining on the lake."