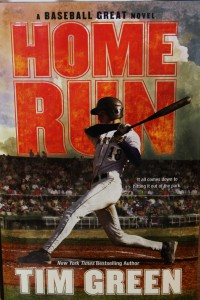 Last year, New York Times Bestselling Author Tim Green had a contest on his Facebook page to name a character in his forthcoming young adult book entitled Home Run. After Pike County residents voted overwhelmingly, Tim Green chose to use the name Ty Rylander for one of his characters, in honor of the young Pike County man who lost his life.
Home Run is now available for purchase, but the Pittsfield Public Youth Library is proud to be able to offer several copies for our patrons to check out. Click here for title availability.
If you're interested in purchasing a copy, you can find print or digital copies on Amazon or other online bookstores.
(Pittsfield Public Library does not have copies available for purchase.)
There is also a Facebook page in honor of Ty Rylander.
Book Summary:

Josh's life has just fallen apart. His father will no longer be coaching the travel baseball team and is moving to Florida, forcing his mom and little sister to move into a small apartment on the wrong side of town. To make matters worse, the new coach of the travel team is an unforgiving drill sergeant. But then Benji tells Josh of a home-run derby in which the winner gets a brand-new house. All Josh has to do to qualify is hit twenty home runs during his travel-team season. With Benji and Jaden's help, Josh is hoping to hit it out of the park and save his family, because if he strikes out, he may just lose everything.